Joshua Tree Vacation Rentals
Luxury Redefined: Bespoke Vacation Rentals in Joshua Tree
Escape to the unparalleled beauty of Joshua Tree and indulge in a vacation experience like no other with a Homestead Modern property. Our curated selection of Joshua Tree luxury vacation rentals seamlessly blends modern design with the tranquility of the desert landscape, offering a retreat that is both opulent and intimately connected to nature.
Modern Designs: Where Elegance Meets the Desert
Step into a world where sophistication meets the rugged allure of Joshua Tree. Our Joshua Tree vacation rentals boast modern architectural designs that stand as a testament to contemporary luxury. From sleek lines to thoughtfully curated interiors, each property is a masterpiece, creating a harmonious fusion of comfort and style against the backdrop of the mesmerizing desert vistas. Our Joshua Tree rentals with pool provide the ultimate High Desert experience with their bespoke outdoor lounge areas + private pools.
Updated High-End Amenities: Elevating your Joshua Tree Vacation
Experience a level of comfort beyond expectations with our luxury Joshua Tree vacation rentals' updated high-end amenities. Immerse yourself in the indulgence of well-appointed kitchens, spa-like bathrooms, and plush furnishings. Our commitment to providing an exceptional stay extends to the details, ensuring that every moment is marked by luxury and convenience. Bring your four-legged friends along for the experience with one of our Joshua Tree pet-friendly vacation rentals.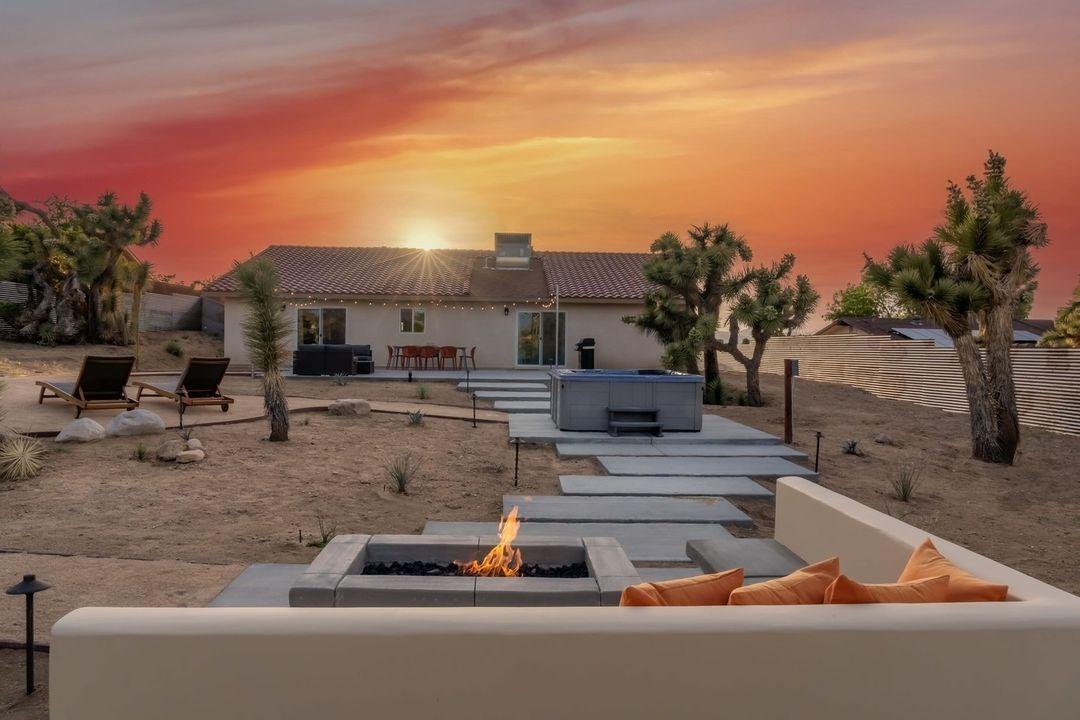 Indoor-Outdoor Living Spaces: Embrace Nature in Style
Our Joshua Tree vacation rentals redefine the boundaries between indoor and outdoor living. Discover a seamless transition from the elegant interiors to expansive outdoor spaces. Our Joshua Tree luxury rentals with hot tubs + firepits will put you in the middle of nature with their outdoor lounge spaces. Bask in the glory of Joshua Tree's breathtaking sunsets from a private terrace, or unwind under the starlit desert sky in a meticulously landscaped garden. Here, nature becomes an integral part of your luxury escape.
Indulge in a vacation where every element is meticulously crafted to offer an unparalleled experience. Book your stay with us and elevate your Joshua Tree retreat to new heights of luxury and sophistication.
The Bungalows: Joshua Tree's Only Premium Boutique Hotel
Homestead Modern provides stylish + modern vacation rental properties near The Joshua Tree National Park, including the only premium boutique hotel in the area - The Bungalows. Beyond providing a luxury cocoon for a visit to the High Desert, Homestead Modern strives to immerse guests in the culture, landscape, and community of Joshua Tree and its surrounding areas. Perfect for executive retreats, a small wedding, or as an intimate place for your group to stay, The Bungalows are the ideal location for your next Joshua Tree adventure.
---
---